Sweet Treats from Portugal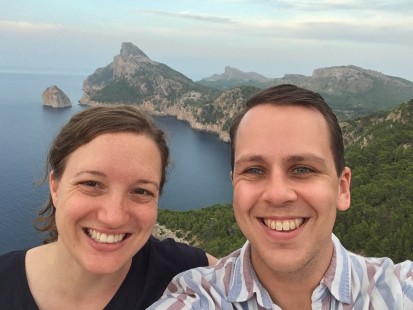 Tuesday 01 February 2022

11:30
In our most recent magazine we featured some tasty treats from around Europe.
Join us in making Pastel de Nata from Portugal and praying for Portugal.
Portugal may have lots and lots of delicious food, but it has only around a 3% evangelical Christian population (operationworld https://operationworld.org/locations/portugal/)
Hoping to help change that in Portugal are ECM Britain workers Mike and Daveen Wilson and Steve and Lydia Cockram (pictured at left). For more information on their work, click on their names.
One Portuguese treat that everyone seems to love is Pastel de Nata. Here's how you make them!
Pastel de Nata:
Ingredients:
1 whole egg (large)
2 egg yolks (large)
115g golden caster sugar
2 tbsp cornflour
400ml full fat (creamy) milk
2 tsp vanilla extract
1 sheet ready rolled puff pastry
Method:
Lightly grease a 12 hole muffin tin and pre-heat oven to 200C/180C fan/Gas 6
Put egg, yolks, sugar & cornflour in a pan and mix well together then gradually add the milk until mixture is well mixed and smooth.
Place pan on medium heat and stir constantly until mixture thickens and comes to the boil. Remove pan from heat and stir in vanilla extract.
Put custard in a glass/ceramic bowl to cool and cover with cling film to prevent skin forming.
Cut pastry sheet into two pieces and place them on top of each other. Roll the pastry tightly, from the short side, into a log and cut the log into 12 even sized rounds.
On a lightly floured board, roll each round into a disc (approx. 10cm) and press the pastry discs into the muffin tin.
Spoon in the cooled custard and bake for 20-25 mins until golden on top. Leave to cool in the tin for 5 mins then move to a cooling rack to finish cooling although they can be eaten warm.
Why not pray for Portugal and one of our workers there while you enjoy a pastel de nata (or two, or three...)?
Steve and Lydia Cocram moved to Portugal in August 2019, and they are working with a church in Gaia. Pray for them as they focus on mobilising and discipling the next generation of Portuguese Christians to live lives faithful to Christ, sharing him with their friends, family and co-workers.
For more Information on ECM's work in Portugal, please follow this link.