Students dreaming big in Barcelona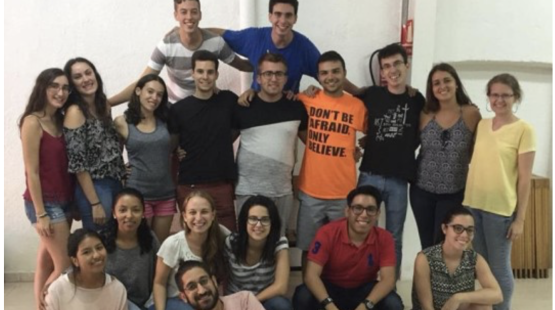 Tuesday 27 November 2018

16:10
Aislinn Duffy is an ECM worker seconded to GBU (Grupos Biblicos Universitarios) and is involved in student ministry in the universities of Barcelona Spain.
"As we hold Mission Week (5th -7th of November) in the Autonomous University of Barcelona (UAB) we want to see Barcelona full of Jesus! GBU's vision (Grupos Biblicos Universitarios) is for every student in Spain to have the opportunity to hear and respond to the gospel of Jesus. Our mission is to make disciples of Jesus in the student world. How? Through personal evangelism, one on one reading of His Word and through larger events like 'Mission Week.' Every year evangelists from across Europe come together for a conference called FEURE (the Fellowship of Evangelists in the Universities in Europe). These are people committed to seeing the Good News of Jesus proclaimed publicly in universities in Europe.
"In November, the conference will be held near Barcelona and we were offered the chance for some of the evangelists to help out at 'Mission Week.' Our students jumped at the opportunity to work with those from the Fellowship of Evangelists in the Universities in Europe proclaiming the gospel on campus.
"In the UAB there are around 37,000 students and the GBU student group has roughly ten students attending regularly. This is the reality of the setting in which we are seeking to reach Spanish students with the gospel message. The theme for the week is Rethink and we want to encourage the students to rethink the big questions in life. We will be holding three talks a day with speakers like John Lennox (a Northern Irish mathematician specialising in group theory, a philosopher of science and a Christian apologist) Vaughan Roberts (rector of St Ebbe's Church, Oxford) and Andy Wickham (is the Director of RZIM Spain and was a staff worker for GBU in Southern Spain) talking on a variety of topics like:
"Rethink science
"Stephen Hawking: "God is unnecessary". Have you ever thought about it?
"Rethink suffering: A God that doesn't love us?
"Rethink hope: Is the Christian faith a crutch for the weak?
"As well as the main afternoon meetings, we are planning more cultural type events to accompany the evening talks including a concert, open-mic night with 'tapas' and a ceilidh (an Irish dance in partners or groups) too.
"What do we want to see?
• A tent filled with people, those seeking Jesus and those who are curious to know what this is all about.
• Students impacted by the gospel to sign up to read the Bible with a GBU member after the Mission Week.
• We want to see the universities of Barcelona full of Jesus.
"Please pray for us as we seek to proclaim Jesus that He would be lifted high as He transforms the lives of students across Barcelona and Spain."