Urgent Emergency Response update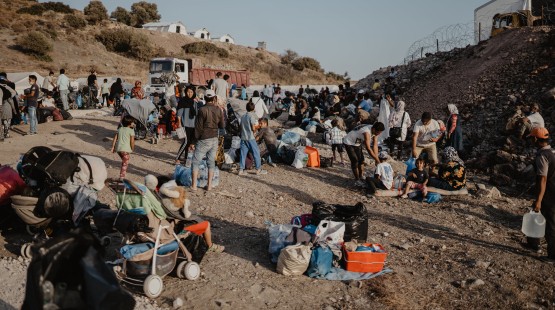 Tuesday 29 September 2020

10:01
On September 8th, a fire tore through Moria Refugee Camp on Lesvos Island and burned almost everything to ashes, rendering once again over 12,000 people homeless. EuroRelief, whith whom we are partnering in responding to this tragic event, recently provided this update:
"It feels like we're back in the old days, when we distributed water and bananas to people on the north of the island in 2015, when thousands were arriving just in one day. This last week, we've been partnering with many different NGO's, united with one common goal: feeding the people who currently live in the streets. On the first day we were able to distribute, people ran to us with empty stomachs, hoping to finally get something after 3 days without proper access to food. It's taken many attempts and many different strategies to figure out how to feed over 12 000 people. As people started to realize that food and water would be coming every day, a seemingly structured line-up formed even before we would arrive, making the line go faster and faster. It's still a really long line-up, the sun is blazing, and most of the time we are unsure if everyone is even in line to receive food.
"Every day, more and more people are moving into the new temporary camp, which will make food distribution look a lot different in the upcoming days."
ECM missionaries in Greece, Peter and Anna Crawford and George and Luciana Christoforides, are working alongside organisations, such as EuroRelief, to help with this crisis and they have provided a list of urgent basic necessities that they need donations for:
£4 provides a case of water
£9 provides a hygiene package
£20 provides a sleeping bag
£20 provides a child with nappies for a month
Can you help? If so, please click below:
Thank you. Every gift will help make such a difference.
If this appeal is oversubscribed, the additional funds will be used for other refugee and migrant ministry.