Because you gave...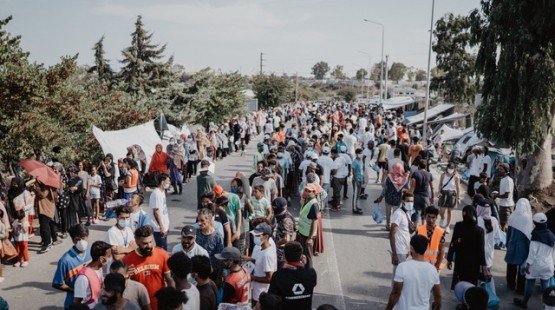 Tuesday 27 October 2020

17:17
Celebrate with us what has happened because of the money you gave in response to our Moria Refugee Fire appeal.
After the catastrophic fires in Moria Refugee camp in Greece more than 10,000 people fled from the burning camp into the surrounding streets looking for a place to live.
Our partner Eurorelief's first response was to have volunteers be with the people, listen to them, hold their hands and support them in any possible way. One of the things these volunteers did in the first morning was preparing sandwiches and distributing them to people even as they were leaving the camp.
Soon they realised that the main problem was food distribution. When trucks with the food would arrive, people would flood the area, posing a security threat. So for the first three days food was not distributed!
Eurorelief stepped in and took over the food distribution, organising the catering company and other organisations that were willing to participate. With more than 60 Eurorelief volunteers working on this every day, alongside other volunteers, they managed to bring food to every person on the streets. Eurorelief also distributed needed blankets, sleeping bags and tents.
The authorities have since managed to set up a temporary camp. Eurorelief had a central role in registering people coming to the new camp and allocating shelter and they continue to support people in the new camp. But due to the success of your giving and their efforts, we have closed our appeal.
Thank you for having made all of this possible!
For more information on what ECM is doing in Greece,
click here.